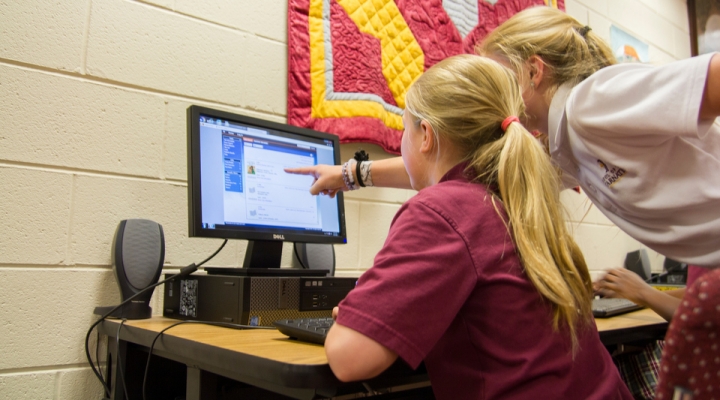 At a Glance
School of the Incarnation is dedicated to cultivating and promoting academic excellence in an environment immersed in Gospel values. This commitment is woven seamlessly into the academic program and student life. We seek to provide a distinctive educational experience to a diverse body of learners.

By the Numbers
Enrollment: 750 students
Student to Teacher 13:1
4th-8th students issued school Chromebooks: 100%
K-2th students issued school iPads: 100%
Extracurricular clubs & sports teams: 35
4-year scholarship total awarded to Class of 2017: $900,000
Teachers: 44
Instructional Assistants: 23
Resource Staff: 4
Accreditation - AdvanceED
School of the Incarnation has met the requirements established by the AdvancED Accreditation Commission and Board of Trustees. All Archdiocesan high schools and elementary schools are accredited as a system through AdvancED. Every five years, the Department of Catholic Schools completes a system-wide accreditation review, which culminates with a visit by an AdvancED External Review Team. Each school is evaluated based on the National Standards and Benchmarks for Effective Catholic Elementary and Secondary Schools. An AdvancED educational system adheres to the highest quality standards and considers all aspects of how schools deliver quality education, which include teaching and learning, vision and strategies, governance, data use, resources, and self-improvement. This recognition identifies School of the Incarnation as a community of integrity, high educational standards with a commitment to on-going self-improvement.
Positive School Environment
To foster a positive school environment where all students are educated in a safe and caring atmosphere, all Archdiocesan schools will follow established procedures for prevention and intervention for bullying, harassment or intimidation.
Positive Behavioral Intervention & Supports (PBIS) has been implemented in every Archdiocesan elementary and high school to enhance academic and social behavior outcomes for all students. School of the Incarnation was awarded the PBIS Gold Award.