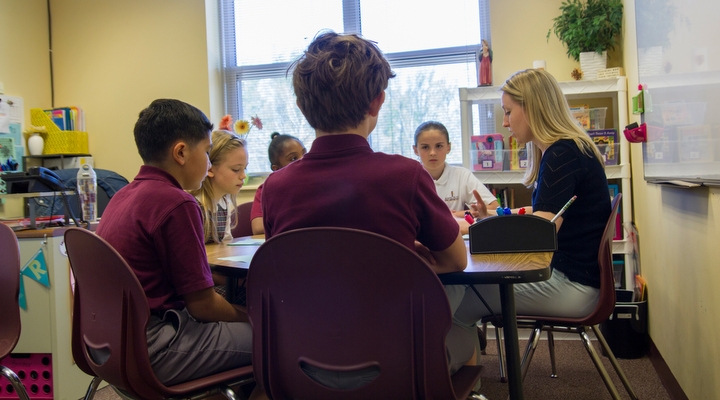 Student Services
In its ongoing commitment to the success of our students, School of the Incarnation offers a number of support services to promote the social, emotional, physical and academic well-being of the children we serve. Our school support staff includes a registered school nurse, two licensed guidance counselors, three academic resource staff members including two certified Special Educators, a STEM Coordinator, a technology integration specialist, a teacher mentor and a differentiated instruction/small group facilitator. Highlights of our services include:
Small Group Instruction -
To further enhance the learning experience at School of the Incarnation teachers routinely utilize small group instruction to challenge and support students in each subject. This teaching method enables students to learn at his or her pace, be supported in particular subject areas, and challenge themselves in subject areas that they excel. Through small group instructional our students are able to seek the additional help they need in certain subject areas, while being challenged to further excel in subject areas where they thrive.

Special Educators -
School of the Incarnation employees special educators to help our students. Our special educators provide supplemental instruction for students with documented learning differences.

Resource Team Members -
The resource team members at School of the Incarnation work closely with our teachers to implement accommodations and develop instructional plans to best support students with learning needs. They advocate for students and families when psychoeducational evaluations are necessary, and serve as liaisons between classroom teachers and outside service providers.

Guidance Staff -
The guidance staff at School of the Incarnation provide organization support as needed for students. This includes small group and individual support for concerns such as social skills, anxiety, study skills, and conflict resolution.

Speech, Language, and Occupational Therapy Services -
Speech and language therapy services are provided on campus for students with documented needs through a cooperative arrangement with the Anne Arundel County Public School System.