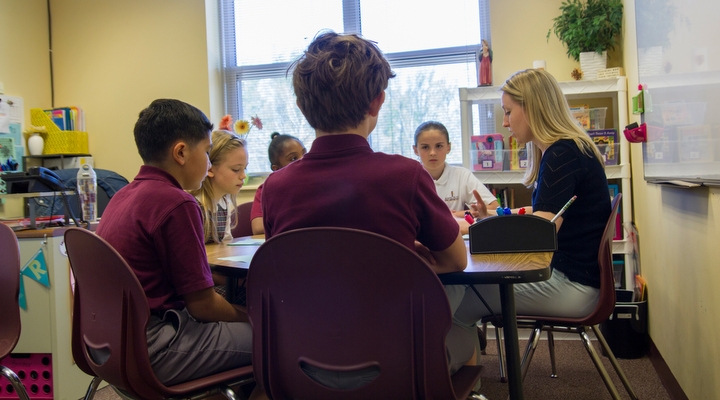 Student Services
In its ongoing commitment to the success of our students, School of the Incarnation offers a number of support services to promote the social, emotional, physical and academic well-being of the children we serve. Our school support staff includes a registered school nurse, two licensed guidance counselors, a certified reading specialist, three academic resource staff members including two certified Special Educators, a STEM Coordinator, a technology integration specialist, a teacher mentor and a differentiated instruction/small group facilitator. Highlights of our services include:
· Small group instructional strategies incorporated in a variety of content areas and grade levels.
· A reading specialist who coordinates the use of research-based intervention reading support, either one-on-one or in small groups based on skill levels to support students' decoding and comprehension.
· Special educators who provide supplemental instruction for students with documented learning differences.
· Resource team members who work closely with teachers to implement accommodations and develop instructional plans to best support students with learning needs.
· Special educators who collaborate with private tutors to facilitate individualized learning.
· Resource team members who advocate for students and families when psychoeducational evaluations are necessary.
· Resource team members who serve as liaisons between classroom teachers and outside service providers.
· Guidance staff and resource team members who provide organizational supports as needed for students.
· Guidance services that include small group and individual support for concerns such as social skills, anxiety, study skills, and conflict resolution.
· Speech and language therapy services that are provided onsite for students with documented needs through a cooperative arrangement with Anne Arundel County Public Schools.
· Occupational therapy services that are available onsite for students with documented needs through a private-pay, third-party arrangement.