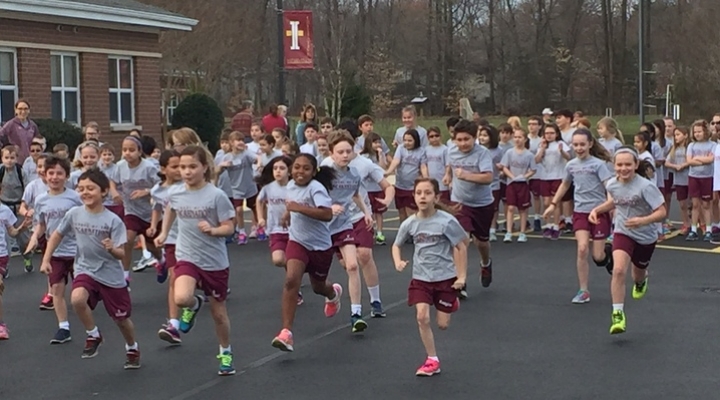 Fundraisers/SCRIP
Families can support School of the Incarnation in a myriad of ways and we encourage all families to find a meaningful way to engage in the school community.

Fundraising and Fun-raising Events
The school hosts many community-building and fundraising events throughout the year that give families the chance for fellowship and fun! We are proud of our vibrant Home and School Association which sponsors many of the fundraisers and events listed below.
Denim & Diamonds Bull Roast
Christmas Bazaar
Family Bingo Night
Community Dining Nights
Irish Fest
Spring Gala
Race for Education (bi-annual)
---
Scrip Sales
SCRIP is an incredible fundraising tool for our school! You earn money for School of the Incarnation just by using gift cards to pay for your everyday purchases. Our school buys the cards at a discount and re-sells them to families for full face value. The discount – some up to 20% - is then rebated back to the school and split 50/50 between you and the HSA. At the end of the school year, if your half is $25 or more from purchases made throughout the year, you will receive a check for your portion of the rebate. It's that easy!


SCRIP is a popular fundraiser because you don't have to actually sell anything! When you purchase SCRIP, you are purchasing gift certificates and prepaid cards that are used just like cash. You can use SCRIP to purchase everyday expenses like gas, groceries, and other essentials. You earn money for our school and your family with every purchase!
There are 3 easy ways to buy Scrip:
Online at www.shopwithscrip.com
Traditional paper order form Scrip To Go or Scrip To Order
In person during designated lobby sale times.
To learn more about Scrip, use the links below.
Signing up with www.shopwithscrip.com
Community Partners
We are grateful for the many corporate partners who are willing to support education through their customer loyalty programs. Through these programs, a small percentage of your purchases go to the school you designate. Please consider designating School of the Incarnation with each of the programs listed below.
Harris Teeter
School of the Incarnation is part of Harris Teeter's "Together in Education Program" ! Every time you shop, 5% of your Harris Teeter brand purchases will be added to our account. To link our school to your card, visit the Harris Teeter Together in Education website. Our school account number is 4153.
AmazonSmile
AmazonSmile is a simple and automatic way for you to support your favorite charitable organization every time you shop, at no cost to you. When you shop Amazon, simply start at smile.amazon.com and your designated charity (aka, School of the Incarnation!) will receive 0.5% of your purchase.
Box Tops for Education
Box Tops 4 Education offers cash to schools that collect and submit qualifying product "box tops."
Box Tops are going DIGITAL !
In case you haven't heard...no more clipping!
Now you can just download the free app, scan your receipt and earn $$$ for School of the Incarnation!
For more information about eligible products and special offers visit btfe.com
Collection contests will run from September to April and the homeroom in each wing that collects the most box tops during the contest period will receive donuts for their class.