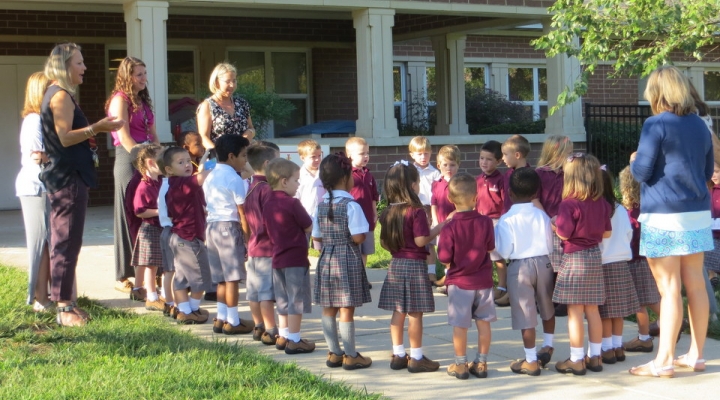 Vision & Mission
Mission Statement
The School of the Incarnation embraces an inter-parish community of children with differing gifts. Through collaboration amongst the faculty, parents, and other professionals, the School seeks to challenge and support a diversity of learning styles and needs and to nurture a spiritual, intellectual, physical, social and emotional wholeness in its students.

With a commitment to professional and catechist development for its faculty and staff, the School of the Incarnation will continue to be grounded in a spirit of openness, rooted in Gospel values, and to be attuned to the evolving pedagogy of education.
Through instruction, faith formation, and Gospel proclamation, students will be called to a greater understanding of their inherent responsibility, as Children of God, to actively participate in a global and technologically advanced society as instruments of justice in the world.
To Him, each one of us is very special, each one a unique creation.
We are one world.
We are all sisters and brothers in Jesus Christ.
We must work for all those who suffer and hear Our Lord say:
'I was a refugee and you gave me a home.'
– Blessed Teresa of Calcutta
Policy
The School of the Incarnation is an educational ministry of the Church in the Archdiocese of Baltimore. There will be no discrimination on the basis of race, sex, color, national origin, religion, age, disability or handicap, gender identity or expression, or protected activity (i.e., opposition to prohibited discrimination or participation in the complaint process) in the admission policies, administration of education policies, tuition assistance or other school-administered programs for faculty, staff, and students.
Prayer for School of the Incarnation
All praise to you, Lord our God
whose Word became flesh
and dwelt among us.
By water and the Holy Spirit
You have joined us to Jesus the Christ
and empower us to be the
Body of Christ in our World.
From our communities of faith
You have called us together
to share a common vision
for the School of the Incarnation.
Bless our efforts to build a school
to serve our children and our parishes.
Guide our planning by your wisdom.
Ennoble our actions by your grace.
May the work of our hands
and the desires of our hearts
bear witness to Jesus our Lord
who lives and reigns with
You and the Holy Spirit,
One God, now and for ever.
Amen